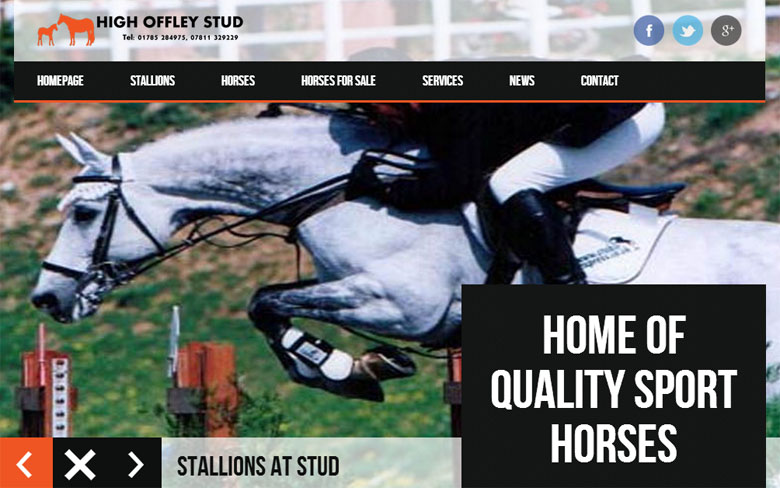 Digital Mix Marketing -
High Offley Stud
High Offley Stud is a Staffordshire based stud farm that uses the internet to reach a global audience, with worldwide sales of horses for sale and stallions for breeding. With high search engine ranks as well as a social marketing campaign High Offley Stud uses various marketing techniques in there digital marketing mix.

Digital mix marketing have worked with numerous equestrian brands including equestrian events, equine brands and other studs and competition yards.

Visit High Offley Stud


Local Marketing
In terms of local digital marketing, targeting has a double virtue: digital marketing can help you promote your company or brand locally helping you save the costs of an ill-fitting campaign; it is essential to accurately analyze your area and adjust your offerings to your target audience: geolocation, sex, age, area of interest or buying behaviour.
Follow in real time your different campaigns, you are able to see how customers interact with your website and how to increase customer conversion.
For the uninitiated, digital marketing is a real hodgepodge: many actors and intermediaries, technology and various media can make this fuzzy environment. Here at digital mix marketing we can help you make the most of you online presence.
In the offline world, advertisers are listening to consumer needs with focus groups, quantitative studies or panels, they communicate about their brand and acquire customers by communicating offers of products or services via traditional media (press, radio, television, etc.). Finally they base their customer loyalty based on loyalty and CRM tools programs. The internet allows you to track customer interactions and optimise the customer journey with a/b testing and other advanced digital techniques.
Blogging has become a powerful weapon for brands large and small, bringing visitors to a website and connecting to potential customers. Blogs can be helpful for link building as well as marketing on social networking sites.
Digital marketing can also be used for direct marketing campaigns, e-mailing and newsletters puts your companies' message into your customer's mailbox.
E-Commerce as a showcase assortment and services of each brand is of course a world in online marketing and can be infinitely customizable through the use of a Content Management System (which adapts the homepage and product presentation based on customer profiles). The best know e-commerce brand is amazon, but with the power of the internet any company can create an online shop for visitors to buy their goods.
The world of social networks is one of the youngest of the digital marketing channels. Through Facebook, pinterest, twitter and google plus social media marketing can help you connect to potential customers.
Whatever your needs Digital mix marketing will work with you to maximise your digital exposure.