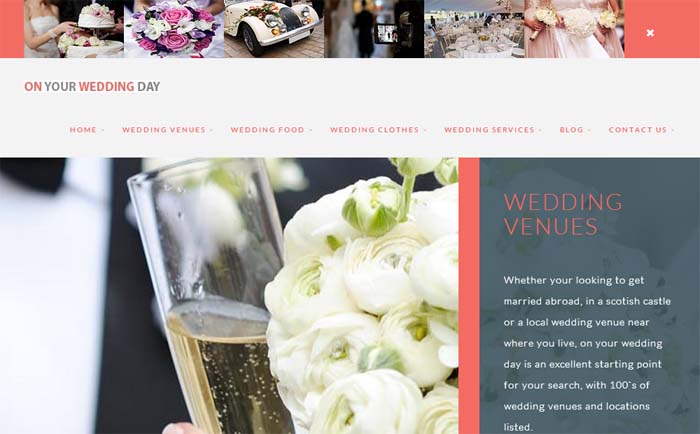 Digital Mix Marketing -
On Your Wedding Day
On your wedding day is a wedding portal that covers the whole wedding day sector from the engagement through to the honeymoon. Digital mix marketing developed a mobile friendly website, in conjunction with on your wedding day digital mix marketing uses various different digital channels that includes search engine optimisation as well as social media marketing.

On Your Wedding Day


Internet Marketing & Creating Web Sites
Digital mix marketing is an agency of Internet Marketing and Internet creation, founded to help companies large and small promote themselves on the internet, we help businesses develop using the Internet effectively. As a Web agency based in Staffordshire we have experience achieving high positions on google as well as other digital marketing channels such as social media and email marketing.
Natural SEO
- Natural SEO experts, we will help you finally become visible on search engines in general and Google in particular.
Create Website
-For the creation or redesign of your business website, you press an Internet Marketing Agency experienced and above all able to understand your business and its challenges!
Creating E-Commerce Site
- Beyond the purely technical aspect, an e-Commerce site is not considering lightly and it must be part of a real web strategy to become profitable. We will accompany you to make the right choices from the start.
Creating Google Adwords Campaigns
- We make your Google Adwords campaigns particularly profitable (campaigns Search, Display campaigns, campaigns Shopping, Remarketing campaigns).
social networks agency
- Professional exploitation of Social Networks. We build and animate your presence on various social networks (Google+, Facebook, Twitter, Youtube ...).
Google analytics
- Results Analysis and Optimization, To move forward and achieve its objectives, we must put in place tools to measure performance and analyze the data.
Email marketing
-Creating Campaigns e-Mailing. We support you in the design, drafting and routing your e-mailing operations.